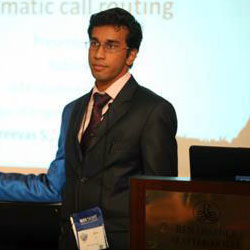 Rahul Raveendranath
Intern Me 2013 Winner
Description
Rahul Raveendranath describes his experience as an intern at the Fisher School of Business at The Ohio State University, Columbus, Ohio:
"The Lab-X initiative is very unique considering the wide scope of the internships offered. I was able to get such a wide array of learning experiences during my ten weeks in Ohio. There was overwhelming support and guidance by the Lab-X team throughout the program. The efforts taken by Lab-X team to ensure the smooth completion of the internship, paying attention to every minor detail, requires special appreciation. Other than as an organisation, everyone in the team reached out personally to the interns.
We even got the opportunity to visit Boston and explore the famed MIT and Harvard universities as part of a Lab-X team weekend trip. Overall the internship and the association with Lab-X has been a wonderful and memorable experience that has had a deep positive impact on me."
See a slide deck of the cool things Rahul was able to do during his internship
Visit Rahul's blog, which portrays his journey