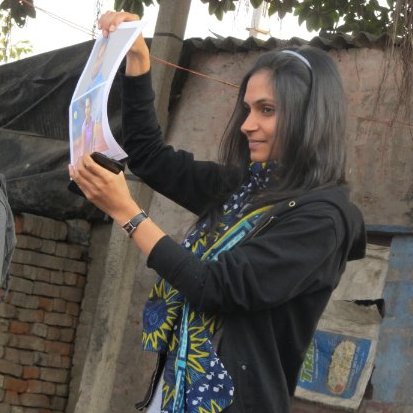 Kaza Amulya Murty
Intern Me 2014 Winner
Description
Testimonial: Kaza Amulya Murty
Intern-Me 2014 Winner: Kaza Amulya Murty
Internship Location : Fermi National Accelerator Laboratory (Chicago, USA).
Internship Topic: Static Structural Analysis of Detector for Mu2e experiment
Lab-X 'Give Back Pledge' Project: 'Jugnu' -Let's Make Everyone Shine, a non-profit that improves access to education among slum-dwelling children
Testimonial :
"Most students in India, especially young women choose engineering discipline from a utilitarian perspective – to get a job and decent salary. But I always wanted to build stuff,  right from school. During my engineering course, I took as many opportunities as I could to work on real-life problems. Hence, when I came across Lab-X's Intern-Me program, I was super excited.  As a part of the Intern-Me competition, I had to solve a complex, real-life problem that tested my ability to apply theoretical knowledge to practical problems.
Prior to joining Fermilab internship, I always wished to pursue research but had no exposure or real-world experience. Research internship at Fermilab was an experience like no other. I worked alongside world-renowned scientists and got first-hand experience of doing research. I  learned how to analyze complex research problems and break them down using my engineering skills. I picked up many technical and interpersonal skills that have shaped all my future career pursuits.
During the internship, I was amazed by many things – one of which was the openness of my mentors to new ideas. Opinions of interns were encouraged and listened to while making crucial technical decisions, which really boosted our morale and confidence. I met people from different cultures and experienced how diversity can be a key ingredient for innovation. On a personal level, I was emotionally moved when my mentor gave me a surprise dinner on my birthday. I felt as if I was amidst my family.  I will always cherish those moments of my internship at Fermilab.
Research internship at Fermilab redefined my vision and future goals. I learned to 'dream big and aim high'.  I became confident about my goals and my ability to create a path to achieve them. I was able to narrow down my favorite area of work to Biomedical engineering. To further my knowledge and expertise in this field, I decided to pursue M.S. degree in Biomedical Engineering at Duke University. At Duke, while working as a research assistant in Bursac Lab, I am developing an in-vitro human skeletal muscle tissue construct to evaluate the performance of skeletal muscle injury bio-markers. This project would obviate the need to test drugs on human subjects.
After graduation, I wish to pursue a Ph.D. in regenerative medicine. The passion for research that my Fermilab mentors instilled in me has been a key motivator for me all along. I will also continue to be actively involved in mentoring programs to encourage other girls to pursue their passion in STEM fields.
From the bottom of my heart, I am thankful to the team of Lab-X foundation for empowering me to get this internship and complete it successfully. There were many hurdles during the internship but Team Lab-X was always there to support me. I will always remain as one of the members of Lab-X family and do my part and contribute back to the society."
Learn more about 'Jugnu – Let's make everyone shine' – a non-profit Amulya co-founded to fulfill Lab-X Give Back Pledge – link